milk_shake color specifics
essential products for best color results.
for professionals only
Color services are the backbone of almost every salon business. The Color Specifics family of products was created to support and preserve your color work—before, during, and after the service.   

With powerful tools to prep, seal, and care, this group of products supports every step of the professional hair color service.

The Color Specifics family includes:
Powerful Protector
Color Remover
Pro Color Equalizer
Acid Color Sealer
Color Sealing Shampoo
Color Sealing Conditioner
must have products to support your color services. 
You put a lot of work into ensuring your clients get the perfect hair color.

From hair health to formulation and application, tons of time and careful consideration goes into perfecting their shade. Color Specifics works with you to prevent uneven results, unwanted staining and loss of vibrancy.
color sealing shampoo
What is it? Post color shampoo.


Who is it for? Clients receiving a color services.


What does it do? Gently cleanses by locking in cosmetic colorants, for longer-lasting color and improved shine. Contains Biogenius Technology for restructured hair and a deep long-lasting vibrant color, a blend of gentle surfactants cleanses the hair while protecting the hair fiber, milk proteins condition while glycerin restores moisture and helps maintain hair hydration.


How do you use it? Apply the acid color sealer, wait for 3 minutes, do not rinse and apply color sealing shampoo. Lather and then rinse. Repeat if necessary. Follow with color sealing conditioner.
color sealing conditioner
What is it? Post color conditioner


Who is it for? Clients receiving color service, following milk shake post color shampoo.


What does it do? Conditions hair after coloring by smoothing the hair shaft and locking in cosmetic color, for longer-lasting color and improved shine. Contains a mix of milk proteins, vitamins, emollient, conditioning agents, a UV filter and a film-forming agent for vibrant, soft, shiny hair.


How do you use it? Apply to clean, damp hair, leave in for 1-3 minutes, comb through and rinse.
powerful protector
What is it? Pre-color protective fluid. 


Who is it for? Clients receiving color services.


What does it do? Protects skin from irritation and redness during technical treatments and prevents skin from staining without affecting the action of the color on the hair. Contains milk proteins, glycerin to restore moisture and help maintain skin hydration. Aloe vera juice calms, with anti-redness and soothing action. Avocado oil keeps skin soft and supple while chamomile extract calms, soothes and helps to retain moisture.


How do you use it? Apply evenly onto skin before the technical treatment.
pro color equalizer
What is it? pH equalizing spray 


Who is it for? All hair types prior to coloring. Ideal for fragile or porous hair.


What does it do? Equalizes and strengthens the hair structure before the color treatment and guarantees even color distribution. Biogenius Technology restructures hair and provides lasting, deep, and brilliant color. Conditions hair structure while moisturizing and hydrating. Protects hair for soft, radiant and manageable results.


How do you use it? Section hair. Spray evenly on midshaft to ends, focusing on dry and damaged areas, before each color treatment.
instant remover
What is it? Hair color remover for skin. 


Who is it for? Any client with color on their skin. 


What does it do? Eliminates color residue from the skin with a gentle and effective stain remover. Leaves skin looking clean and soft with no redness. Contains milk proteins and aloe vera juice for a combined emollient to soothe and hydrate skin.


How do you use it? Gently stroke a saturated cotton pad over affected areas without rubbing. Rinse thoroughly and repeat if needed. Shampoo the hair.
acid color sealer
What is it? Post-color acid sealer with a pH balance of 3.5.


Who is it for? Clients receiving (same day) color services.


What does it do? Specifically formulated to seal the cuticle after each technical treatment and lock in color. Provides lasting, deep, brilliant color. Conditions and protects hair structure, leaving hair soft, radiant and more manageable.


How do you use it? Rinse hair color thoroughly. Apply evenly to the hair, avoiding contact with the skin. Leave in for 3 minutes, without rinsing, apply milk_shake color sealing shampoo, lather, then rinse.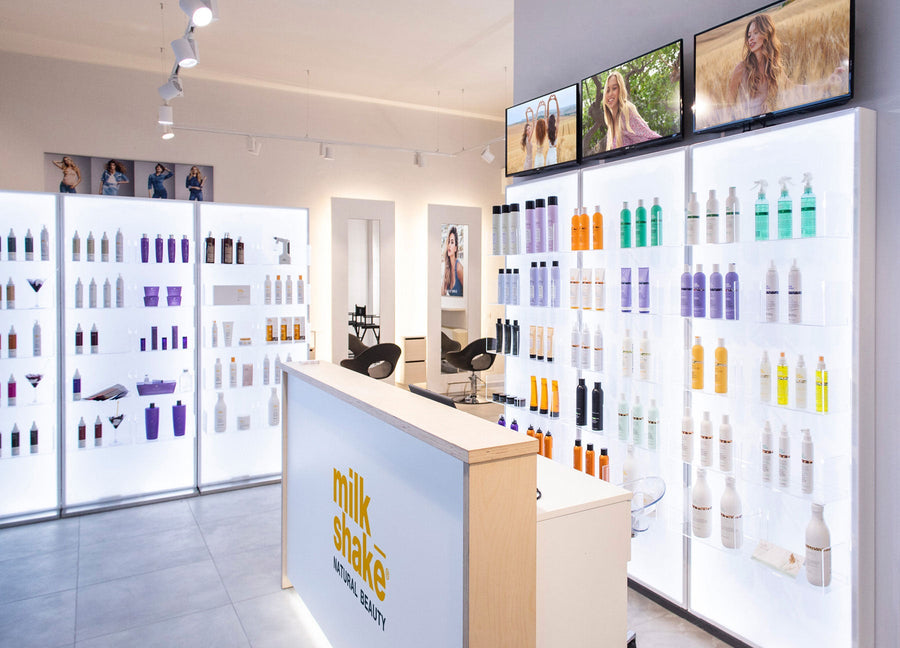 get innovative color in your salon
Want to experience the innovative milk_shake color lines in your salon?