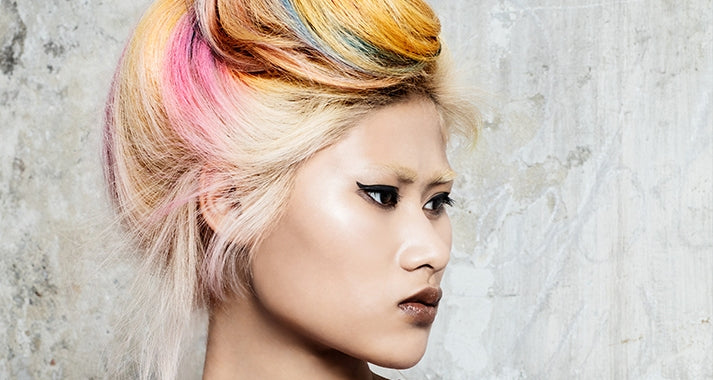 Bold Hair Color Trends From London
z.one concept brings bold hair color trends from London in their BRITISH COLLECTION "BRICK LANE"   London is host to a vibrant combination culture showcasing varying cameos of street life – scavenging, borrowing and adopting from a diverse palette of global cultures and eras – from pavement to palace.
Brick Lane British Collection
draws its inspiration from the creative melting pot that is East London. Where music, fashion and art are born. Where trends begin, develop and take hold internationally. A
subtle street style collection
, that focuses on a twist of vintage, 90's floral and a mixture of textures. Fashion which is anti Fashion and Glam… dressing down… that will set a benchmark for things to come.
/ HAIR COLOR /
The
injection of colorful hair
and the main focus of the collection. 
Pastel colors
, have been a huge trend internationally and a trend that is here to stay. This collection is working with brighter rainbow colors, pastel color pallets and techniques that blend and gradate color. Bright oranges and reds that fuse together and
colored roots
are big trends for the season.  
/ HAIRCUTS /
For this collection we have chosen haircut shapes which are
basic and simple
but will give a fantastic end result. BOX BOB: a timeless classic. A-LINE BOB: a simple shape that has fluidity and structure. SHORT GRAD: a round graduated shape, with a modern twist.
/ HAIR FINISHING /
NO INHIBITION
styling products were used to finish all haircuts. We have chosen techniques which
reinforce the shape of the haircut
, are very consumer friendly and can be easily recreated.
Charmaine Piche-Baker:
"We created this collection by looking at current fashion trends in London and translating them into an easy to follow salon collection that everyone can be inspired by and can reproduce. The inspiration for the bold hair color trends from London comes from the STREET where most trends are born, and interrupted down into mainstream. We have kept this collection "bite size" easy to follow. The cutting techniques are basic classics which are the foundation to all our work and the coloring techniques are customizable and sellable. Join z.one concept™ in this new journey of innovation and education."