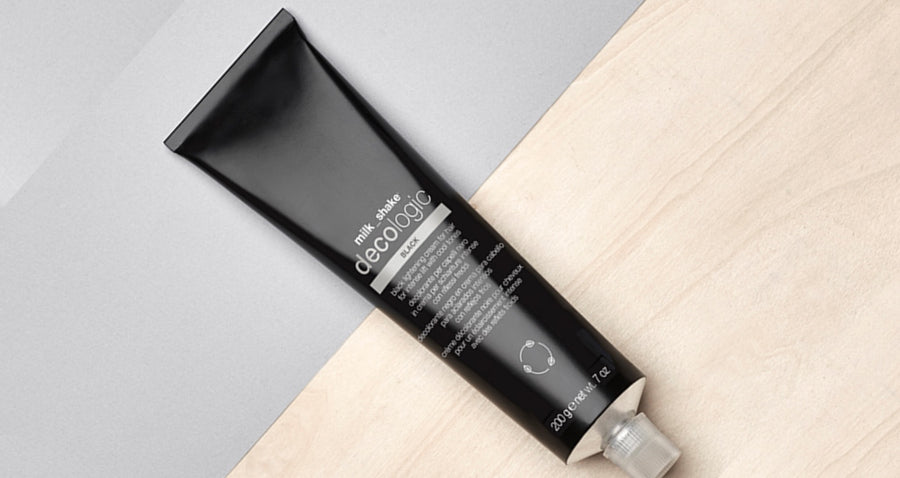 Everything You Need to Know About Decologic Black
How many blondes could
you
create in a day if you didn't have to tone after lightening? It's not a trick question—for most colorists, blondes are great for business. A client committed to the platinum life can be counted on for regular root touch ups and specialized between appointment care. The one drawback to increasing your blonding business is the additional processing times for the toning that is typically needed to reduce natural warm undertones after lifting. To address this and better serve our family of salons and stylists, milk_shake has developed
Black
—the latest addition to the Decologic lightening system family. This incredible new lightening solution gives your clients gorgeous cool and neutral blonde tones, while maintaining the integrity and health of their hair, without additional toning!

What is Decologic Black?
A new lightening solution designed specifically to deliver natural-looking cool and neutral blonde tones. As its name implies,
Decologic Black
is an inky-hued, cream-based lightener. Its main active ingredients include charcoal and specialized pigments designed to counteract warm melanin in the hair.  This powerful lightener can lift hair up to 7 shades, while still maintaining hair health.
How is it different from other lighteners?
Beyond its striking black hue, this lightening cream is one of the first of its kind to deliver icy blond tones without the need for additional toning treatments. The unique combination of natural ingredients delivers a powerful one-two punch—simultaneously lifting hair up to 7 levels, while delivering restorative fruit sugars to maintain moisture. These ingredients work in harmony to create maximum lift and shine without brassiness or compromising your clients' hair health.
Where does it fit in the family of Decologic products?
Black
was developed specifically to address high-lift clients with cool and neutral undertones. This targeted lightening solution works seamlessly along with our expanding Decologic lightening system family:
How should I use Decologic Black?
Can I use Black on previously lightened hair?
It's never recommended to apply a pigmented product on pre-lightened hair. That being said, the black pigment in
Decologic Black
will
deposit onto previously lightened hair. This would result in grey tones appearing on very light sections of previously lightened hair.
What techniques can I use with this product?
Decologic Black
can be used with any blonding technique. Adjustments will need to be made depending on the desired technique, for more information please see below.
What are the mixing ratios for Decologic Black + oxidizing emulsion?
Freehand application : 1:1.5  -mix with:  10, 20, 30 or  40 vol. Application with stripes, foils or other support material : 1:2 – mix with: 10, 20 or 30 vol. Total lightening and decolorizing wash : 1:2 o 1:3 -  mix with: 10, or 20 vol.

Will I still need to use a toner?
If the end result that you are trying to create is a cool or neutral blonde, no additional toning will be necessary. However, if you are looking to create additional tones— such as pastels or fashion shades—
after
lifting, the appropriate toner should be applied following processing.  
milk_shake Decologic Black
can help you increase your blonding bottom line by decreasing your processing time. By eliminating naturally occurring brassy tones while you lift, you sidestep the need for additional toning, helping you keep your blinding business in the black.
*Retail Tip
: Be sure that your cool blonde clients know that their icy hues require regular maintenance, both inside and outside of the salon. Our
silver shine shampoo
,
conditioner
, and
whipped cream leave-in
were made for cool and neutral blondes. This line includes everything that they will need to keep the brass at bay, in-between appointments.