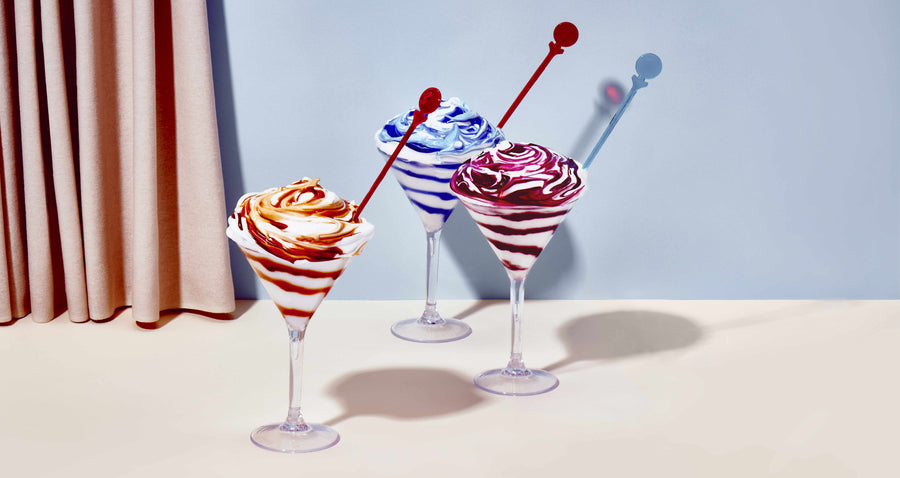 Have You Tried milkshake Hair Cocktails?
YOUR HAIR , Deliciously Healthy And Beautiful.
milk_shake® has created a range of delectable hair treatments that will leave hair looking gorgeous and smelling divine for a healthy, natural result.  Each treatment has been studied carefully to suit each hair type and hair need.
Twenty minutes it's all it takes to inject some life into your locks with a milk_shake haircare reviving treatment. The Argan Cocktail will add hydration and shine, while the Direct Color cocktail is a conditioning, color reviving treatment. The delicious smelling hair cocktail is mixed in front of you and served in super cute martini glasses.
Direct Color Shakes
The only direct color treatment with a conditioning effect on the hair.  For radiant color with an incredible shine . Conditioning and hydration with the unique scent of our best-selling milk_shake® conditioning whipped cream combined with milk_shake® direct color for a light but efficient color reviving treatment.  Ask your milk_shake® hairdresser how to add delicious shine and color to your hair.
Do you want to try the latest hair color trends but are afraid of commitment? Or your hair color has faded but no time for a color appointment? Now you can play with milk_shake Direct Color cocktail. It's a treatment that deposits vibrant color for the perfect color refresh service. This color treatment which is available in 20 inter-mixable shades, fuses milk_shake's conditioning whipped cream with your chosen direct colors shade.
How it works:
Decorate the glass with approx. 3-5 ml of the chosen milk_shake® direct color shade. Fill the glass with approx. 5 g of milk_shake® whipped cream. Add more direct color into the glass for a total of approx. 15 ml for the treatment. Mix the direct color with the whipped cream evenly. Apply to clean, damp hair with delicate and pleasant gestures. Leave in for 10 minutes, then rinse well and proceed with the most suitable milk_shake® leave-in treatment and styling products for the blow dry.
End result – healthy hair with delicious scent and shiny color. Perfect as a "color rinse" for natural or colored hair, to prolong the duration of hair color and its shine for healthy, nourished, beautiful hair.
N.B.: all of the milk_shake® direct color nuances can be used for this treatment, but the most suitable nuances are: brown, silver, beige blond, golden blond, copper, light red, deep red, powder and eggplant. In the case of bleached or white hair, reduce setting time.

Or try the new milk_shake argan cocktail to complete the treatment!
  A greek yogurt swirled with honey has nothing on this milk_shake argan cocktail – even if they do look alike. Created using milk_shake's bestselling
conditioning whipped cream
, it's laced with milk_shake lightweight
glistening argan oil
. For clients with dry and dehydrated strands, this unique nourishing treatment is a winner with milk-derived proteins to strengthen hair and repairing properties of the argan oil. It will even shield from the sun's rays and has an anti aging action thanks to Morocco's golden oil.  
How it works:
Simply apply this no rinse cocktail to clean damp hair, blow-dry and you are ready to go. End result – healthy, shiny and silky hair with a delicious scent.[/ig_text][/ig_column][/ig_row]   Watch the video on YouTube
HOW TO milk_shake Hair Color Cocktails