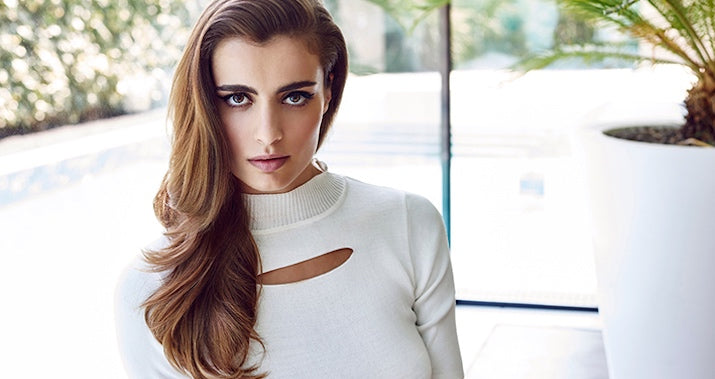 New Year's Resolutions for Healthy Hair
Commit to Newly Radiant and Healthy Hair This New Year.
  Everyone's New Year's Resolutions are about habits they hate and ruts they've fallen into. One of your friends is going to lose weight and stop snacking, and another wants to rein in her lush spending. But why aren't we talking about the nasty hair habits that need breaking and the importance of switching up stale haircare routines to achieve healthy hair? If
your hair is craving new flavors of care
and your yearlong attempts at boosting volume or finding your shine have fallen flat, read on to find out
how to help your hair go from "boring" to "bam!"
in the new year.  
1. Break Up the Shampoo + Conditioner Routine
  Good hair hygiene in the shower is simple, right? Shampoo gets rid of dirt, oil, and other unsavory stuff. Conditioner keeps your scalp healthy and adds back some of the moisture removed by shampoo. With all of that scrubbing and cleansing (which is good for you) comes a downside: your hair can be stripped of the nutrients and moisture it needs—even with conditioner. This leads to tangling, dry strands, untamable roots, split ends, and frizz galore. Yuck. Luckily, there's an easy fix. Make nourishing variety this year's resolution. Instead of sticking to shampoo and conditioner on every wash, switch out your conditioner with a restorative mask once per week. Intensive treatments are just like face masks for your hair—they contain the concentrated nourishment your hair needs to get it back to a state of balance. For a one-stop-shop, we recommend stocking up on the
Integrity line of shampoo, conditioner, and intensive treatments
. They're great for all hair types and work to preserve the integrity of your color while they repair your hair.
Integrity nourishing shampoo is a gently cleansing, color-conscious shampoo that fights frizz and strengthens hair with super-healthy muru muru butter.
Integrity nourishing conditioner is a luxurious, creamy treatment formulated to nourish and moisturize strands of all persuasions.
Integrity intensive treatment is your once-per-week repair treatment designed to eliminate frizz, detangle, soften, and restore shine. Leave it in for 3-5 minutes in place of your conditioner for a rejuvenating boost that keeps damage from keeping your hair down.
Bonus: The Integrity line turns your shower into a sweetly tropical-scented 'shake. Need we say more?  
2. Give Your Hair a Deep Clean
  Nope, deep cleaning isn't just for carpets and complexions. Your hair products come to your rescue in just about every situation, but they do have one downside: shampoos, sprays, masks, and other hair products coat your hair in built-up residue that your daily scrub can't quite remove. Regular shampoo is designed to be a gentle cleaner (who'd use it if it ruined their hair?) and a routine nourisher, but its gentleness means that it can't remove everything we put in our hair. What does that mean? Over time, product build-up can lead to dull, lifeless, and downright uncooperative hair. Sound familiar? Even if you only use shampoo and hairspray daily, resolve to keep your locks looking full and healthy this new year by incorporating a weekly or monthly deep cleansing shampoo that wipes away all that excess residue. Milk_shake
deep cleansing shampoo
is specially designed to remove product residue and chlorine buildup from your hair without the damaging effects of other clarifying shampoos. It works to:
keep your hair's moisture intact,
condition your hair with totally luscious fruit extracts,
and strengthen your hair's structure with sweet-scented milk protein.
Lather up once per week if you go heavy on the hair products or once every four weeks if you stick to shampoo and conditioner.  
3. Invest in Professional Hair Treatment
  When you need to de-stress, you go to a masseuse. When you're down, you schedule a counseling session. Why? Because sometimes you need a professional to help you repair the damage of daily life. Swimming, environmental pollution, flat irons, and hair products can all contribute to dry and damaged hair. If your strands have seen better days, ask your stylist to spoil you once every month or two this new year with
milk_shake integrity repairing hair treatment
. Available only in salons, this professional treatment is chock-full of proteins and amino acids that help restore your hair's strength from the effects of chemical treatments and environmental damage. It's an all-in-one solution that leaves your hair stronger, healthier, moisturized, and shining—after just one treatment.
Muru muru butter
, essential fatty acids, and vitamin A team up in this all-in-one intensive treatment to sooth, nourish, and restructure dry and lifeless locks. The result is a softness and radiance that just can't be achieved at home. Good looks are an investment, and your hair is no different. Resolve to spoil yourself with healthy-looking hair in 2017 with salon-exclusive repairing hair treatment.  
4. Speaking of Spoiling Yourself…
  There's a professional solution for shinier, more radiant and healthy hair, and you can't buy it in a bottle over-the-counter. If your hair is looking dull or if you want to spice up your look in the new year without a permanent commitment, ask your stylist to pamper your hair with
Clear Direct Color
. Milk_shake's conditioning direct color is the perfect complement to your at-home milkshake shampoo and conditioner. It combines the nourishing, hydrating power of milkshake with the high-quality pigments that can only be found in salon products. Ask your stylist to treat your hair to a
hydrating dessert
that's just as delicious as it is healthy—our direct color comes in shades ranging from eggplant to violet and classic brown to switch up your style or bring out the beauty in your existing color. Perfect for first-time coloring, creating highlights, toning, or intensifying existing shades, this temporary color treatment lasts for about 8-10 washes for long-lasting shine and a risk-free dip into the waters of hair color.  
5. Banish Limp Locks
  Many people want to be thin, but nobody wants their hair to be. If your hair leans toward the flat, the fine, or the lifeless, it's time to add a volumizing hair care routine to your New Year's to-do list. Give your modest hair a big personality makeover with:
Milk_shake volume solution shampoo: This shampoo blends the tantalizing scents and cleansing power of the milk_shake line with a blend of healthy micro-algae, B vitamins, and sugar molecules that add density to your strands and thickens your hair.
Milk_shake volume solution conditioner: Follow up with a hydrating, moisturizing, and seductively sweet conditioner that uses aloe vera to calm and soothe your scalp and hair. This multi-tasking treat also provides long-lasting density and body to bring your hair back to life.
Milk_shake volume solution styling: Spread this crucial finishing touch on your strands before styling to further define and support your newfound volume. It's perfect for locking in your signature style with extra body using flat irons, curlers, rollers, or other styling tools.
  What's your New Year's hairstyle resolution? If your current locks are looking and feeling a little lackluster, we hope you'll let milk_shake bring them back to life with whatever you're craving: volume, frizz relief, or long-lasting shine. Cheers to a more radiant, confident you in 2018!