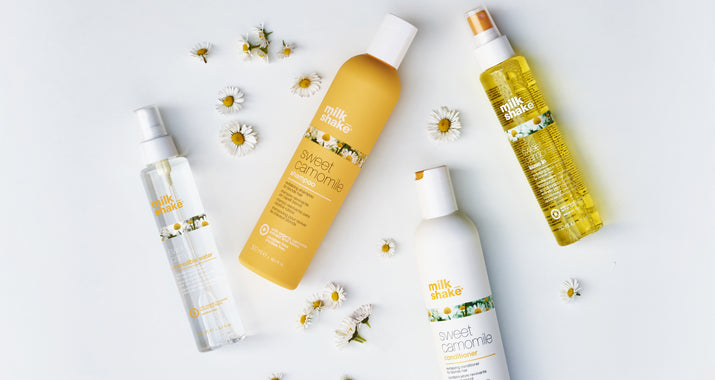 The Best Shampoo And Conditioner - Part 2
We hope you enjoyed the
tips from yesterday
 (Click Here)
for best shampoo and conditioners that are perfect for color treated, dry hair or hair that needs daily washing. Today we introduce shampoos for specific hair needs.  

Best shampoo to revive your blonde locks
Natural and bottle-blondes, rejoice—there's now a shampoo that can keep fair highlights and allover sunny color looking light, bright, and radiant. Milk shake
sweet chamomile shampoo
combines sweet natural ingredients like papaya and apricot with organic wildflower honey to leave your hair looking and feeling lighter, softer, and healthier than ever. Meanwhile, glycerin extract from organic chamomile naturally lightens and accentuates your hair's blonde hues. If your hair is looking dull, drab, dry, or damaged by environmental factors (blonde hair is especially susceptible), sweet chamomile is your all-in-one beauty and nutrition solution. For best results, incorporate a lightening and softening boost to your shower routine with
sweet chamomile conditioner.

Best shampoo for discolored blonde or grey hair
Chlorine, sun exposure, and overuse of hair products can do a number on delicate blonde locks. In fact, ashy or brassy hair can be caused by something as simple as too much shampooing. If your natural (or salon) blonde has rebelled into an unsavory yellow or orange hue that you didn't sign up for,
milk shake silver shine shampoo
is the perfect solution. It works using a specially formulated purple pigment that neutralizes unwanted brassy tones and returns your hair to its original, healthy hue. Since you only have to use it 1-2 times per week, it's blissfully low-maintenance and a carefree compliment to your existing haircare routine. For those with more severe discoloration,
silver shine whipped cream
leave-in conditioner can be incorporated into your styling routine for a color-curing boost.  

 Best shampoo for sun bunnies and athletes
If you live in a humid climate, spend time in the sun, or work out often, your scalp and strands may be exposed to additional damage. Sweat can weaken your hair and lead to easier breakage; its salty nature also tends to dry out your scalp (hello, dandruff). To combat this, we created
milk shake sensorial mint shampoo,
a gentle and blissfully refreshing cleansing experience. Fruit extracts work to restore shine post-sweat while the shampoo's namesake, mint, purifies and stimulates your scalp to avoid the stunted strand growth and dryness associated with hot environments. For best results, use its nourishing partner-in-shine,
sensorial mint conditioner.

 Best shampoo for thin or fragile hair
Thin, fine hair can feel impossible to style, and it tends to be brutally honest about the last time it had a good washing. Fragile hair doesn't stay silent, either: split ends, constant shedding, and broken strands are a sign that your hair needs a little extra love.
Milk_shake energizing blend shampoo
contains an invigorating blend of time-tested herbal remedies that add volume, condition, soothe, soften, and stimulate hair growth.  Rosemary, sage, and eucalyptus will refresh your senses and your hair over time for fuller, stronger style. Pair it with
energizing blend conditioner
for extra hydration and ultimate softness.  
Still don't think you have found the perfect fit for you? Check in for more amazing shampoos that will bring out the best in your hair and will be the ultimate fit for you, tomorrow!