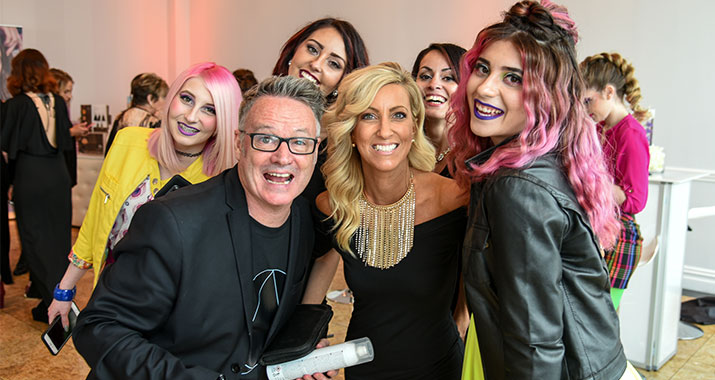 Unrestricted Collection Hair Show
z.one concept North America held their Unrestricted Collection hair show on Monday May 22nd, 2017, in North Bergen, NJ, for salons and stylists in the tri-state market. The event was led by the Director of Education,
Brian Grieve
, and was accompanied by Art Team member
Jaclyn Lopes
and Color Ambassador
Tammy Cox
. The Unrestricted Collection is a tribute to the 'riot girl', the rebellious woman.  Telling the story of 5 different styles drawn together by a sensual charm that mixes 'cute' with 'tough' to create a youthful and unique look. The Unrestricted collection enhances the combination of cuts and color through five techniques that are based on the laws of geometry.
  Included in the prestigious Collection event, was a special segment called 'RISING STARS'. This was an Inspiration of Director of Education, Brian Grieve to create a unique opportunity and platform to showcase the ever increasing talent pool within z.one concept NA. The Artists featured from NJ & MA were asked to present a model, fully completed, inspired by the 'Unrestricted Collection'. This had to include, Haircut, Hair Color, Make Up and Wardrobe.  
The 'Rising Stars'
KELLY LEIGH - Owner of Cutting Edge Salon, Feeding Hills, MA For my model the "rock" inspired look I used the paneling technique using an oversized halo section. I alternated each panel using a different direct color shade. I used pink, lilac, and powder. On the hair that was not included in the paneling technique I used the global technique and two separate formulas. First I applied smoothies pearl with equal parts of 6.66 and 5.77 for example I used 20g pearl with 2g 6.66 and 2g 5.77. My second formula was direct color to give a more intense shade using equal parts of pink and lilac.
  HANNAH PROVOST - Master Colorist, Cutting Edge Salon, Feeding Hills, MA CARMEN LUZ - Stylist & Colorist, Agawam, MA The hair was pre-lightened using light 10 and 20 vol. with safe lightener complex. We placed foils back to back. Then toned using smoothies powder and silver with intensive activator, smoothies 20 grams powder + 5 grams Silver. After we used the touch and blend technique with equal part of eggplant and fuchsia milk_shake direct color.
  DYLAN FOSTER - Manager, ID Salon, Midland Park, NJ Mia started with level 2 black hair. First process was reset a+b 2 rounds of the product. Then 1 session of 20 vol ligh10 blue with Safe Lightener complex at root area and 2 sessions of 20 vol. Ligh10blue with Safe Lightener complex at mid-shaft ends after that she got at the root area 5.77 creative color with 10 grams of blue and melted into blue direct color and after all that I went in with more direct color using violet eggplant fuchsia and blue to add extra pop
  MARLENE MATOS AZENHA - Owner of Salon East, Newark, NJ KRISTYN KOMONIEWSKI LEOTTA - Stylist, Plucks Fine Haircutting & Color, Red Bank, NJ KRISTYN & MARLENE'S MODEL Our model Stephanie we used global / panel technique . Global color we used creative permanent 5.77 (50 grams) 4.7 (25 grams) with 10 volume all over and deep color complex. As for panel we pre-lightened with 30 vol and safe lightener complex and then back to back foils with direct color alternating blue and equal parts of eggplant and fuchsia.
  Outcome of this event was truly inspiring. The young Rising Stars stepped up and delivered, wowing the audience with their Cutting and Coloring skills, along with presenting on stage like seasoned professionals. This was a wonderful example of giving young artists the moment to shine and each of them taking their opportunity.
We are delighted to share to the Industry, z.one concept Education Network is in good hands. The future is looking bright. See the looks of the original Unrestricted Collection
here
.