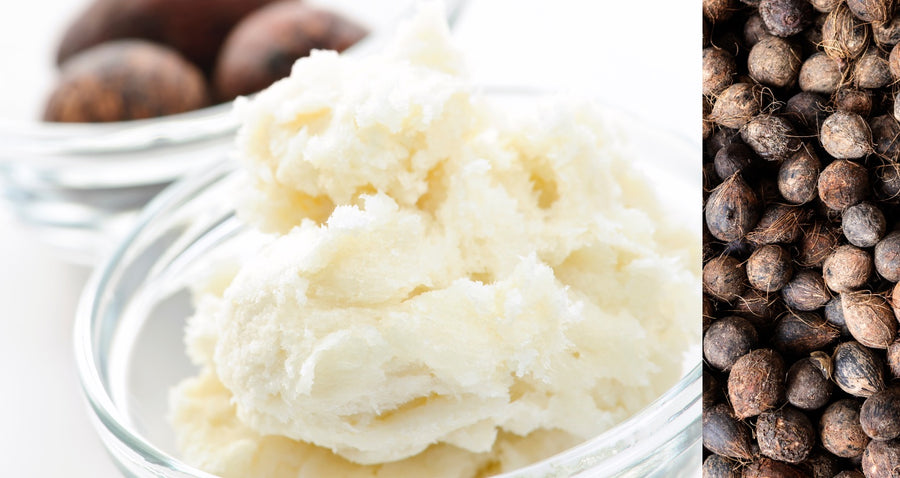 What's the buzz about murumuru butter?
Butter on your hair is nowhere near as weird as it sounds. Actually, it's not really butter at all—
murumuru butter
is a thick, creamy, nutty-scented substance extracted from the seeds of a palm fruit native to the Amazon rainforest. And, while we've been rubbing all sorts of butters on our skin for years, murumuru butter is especially helpful in
bringing drab and dry hair back to life
.
Why murumuru butter is a must-have for hair?
Murumuru butter is packed with a variety of fatty acids that soften and
moisturize your strands
. Unlike nutritional supplements, just one application can make a big difference, and a little goes a long way. Murumuru butter has moisture-sealing properties that keep your hair cooperative for longer. This thick tropical butter is also a blessing for those with
curly hair:
its texture and oil content can
help define curls, tame stubborn locks, and keep frizz in line.
Healthier hair, happier you
Murumuru butter can do wonders for your hair in the long-term. It penetrates your hair cuticle (instead of acting as a strand band-aid) to
strengthen your hair and restore your natural shine
. Plus, the omega-3 fatty acids contained in this multipurpose beauty solution are known for
promoting elasticity
—the characteristic that determines how much your hair can stretch before it breaks. So, if a simple scrub in the shower or an all-day ponytail are all it takes to leave a trail of hair in your wake, murumuru butter may be just the solution.
Do you have unruly hair?
Murumuru can help with that, too—its thickness can make your hair more pliable and cooperative come styling time. For unruly hair, a regular murumuru butter application is just what the stylist ordered. Those stubborn layers of frizz and dry hair are no match for murumuru's ability to get to the root of the problem with nourishing moisture and restorative vitamin A.
"Sign me up. Where do I get it?"
Milk_shake's nourishing
muru muru butter
is a luxurious, easy-to-use pre-shampoo treatment that adds just a few extra minutes to your washing routine but produces results after just one use. Rear more
HERE
How do I use murumuru butter?
If your hair is damaged—think split ends or heat and dye damage—murumuru butter works best when you massage thoroughly from mid-lengths to ends and let it sit for three to five minutes before rinsing. Then, compliment the moisturizing goodness with
integrity nourishing shampoo
 (or another milk_shake fave) and lock in some seriously silky strands with
integrity nourishing conditioner
.
The best part? The whole integrity line contains moisturizing murumuru butter, so your hair's integrity will be restored in no time. To repair more severe damage, replace your integrity conditioner with the integrity intensive treatment one to two times per month—it's another 3-5 minute leave-in product with powerful cleansing potential and an extra boost of murumuru for accentuated softness and shine.
What if my hair is suffering from chronic dryness?
This product was made for you, after all. You'll just need to be a little gentler to protect your hair. Mix equal amounts of
nourishing murumuru butter
 with
integrity nourishing conditioner
 or
integrity intensive treatment
 (post-shampoo). Distribute it through your strands thoroughly (just like plain conditioner) and leave it in for three to five minutes before combing your hair and rinsing it clean.   Whether it's nourishment, moisture, strength, or a healthy glow your mane is craving, add integrity's nourishing murumuru butter to your shampoo shelf this new year for a quick-acting tress treatment.[/ig_text][/ig_column][/ig_row]