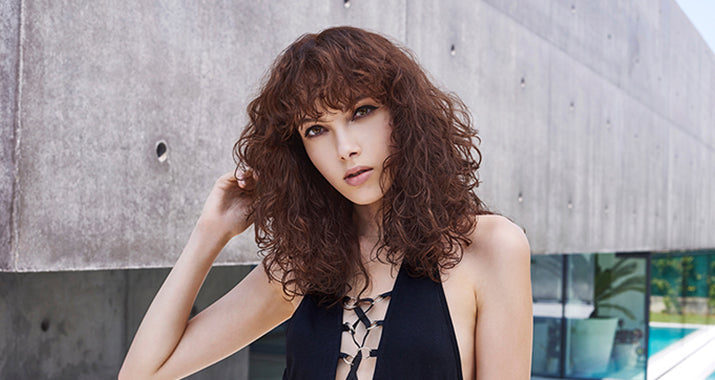 Your Guide to Banishing Frizz
Almost every client deals with frizz at some point. Identifying the cause can help you get to the "root" of your clients' frizz problem and recommend the right solutions for both care and styling.
common causes of frizz
Too-hot showers strip hair of oils. If your client love a steamy shower, this could be contributing to the problem. 
The wrong shampoo can leave hair dry and unruly. Identify their unique hair needs and prescribe the proper care routine. 
Heating devices do exactly what they're supposed to—heat hair. Most client's crank up the heat a little too much, which causes dryness, damage, and frizz.
Humid or mega-hot weather If your client is heading south on vacation or lives in a warmer climate full-time they may want to consider a tailored care. routine 
frizz-control options
Argan oil
is a natural, nourishing cure for damaged hair. This nutty haircare solution is packed with moisturizing ingredients like vitamin A, vitamin E, and omega-6 fatty acids that help banish frizz. Argan oil may originate from a Moroccan tree nut, but there's no need to hop on a plane. Milk_shake's easy-to-use
argan line
has you covered.  
milk_shake argan shampoo
milk_shake argan shampoo uses the power of argan oil to eliminate frizz without sacrificing the gentle surfactants that keep hair clean. Argan is like an instant glass of water for your strands. But milk_shake argan shampoo is also rich in silk and rice proteins that repair your hair's structure from root to tip. 
milk_shake argan oil
After cleansing it's important to add an extra layer of protection. Enter: our pure and powerful milk_shake argan oil. It's got all the benefits of argan oil with the added advantage of a potent conditioning blend. The result? Glowing, revitalized hair from a few drops of leave-in product. Just work a few small squirts through hair during or after styling to reap the benefits of healthier, shinier hair.  
frizz-banishing stylers
The right care routine goes a long way towards frizz-prevention, but once you hit the styling stage, you'll want to seal the deal.  That's why we created the gentle, soothing glistening milk line.  
milk_shake Glistening No Frizz line
The hydrating, shine-inducing
glistening milk
leaves hair feeling supremely soft and healthy after heat treatments. It's packed with powerful antioxidants and conditioning agents that protect your hair's shaft from damage while keeping your hair hydrated—and frizz-free. Its sister,
glistening serum
, is the perfect styling counterpart. It smooths your hair and eliminates frizz for hair that looks and feels healthy. Work a few drops through your hair before or after styling for hair that's soft, vibrant, and easy to comb. Sometimes, stubborn strands need an extra layer of protection. That's where
glistening spray
steps on-stage. This hydrating and conditioning spray can be spritzed onto dry hair for protection that penetrates your hair's shaft and keeps frizz in-line for the long-term.