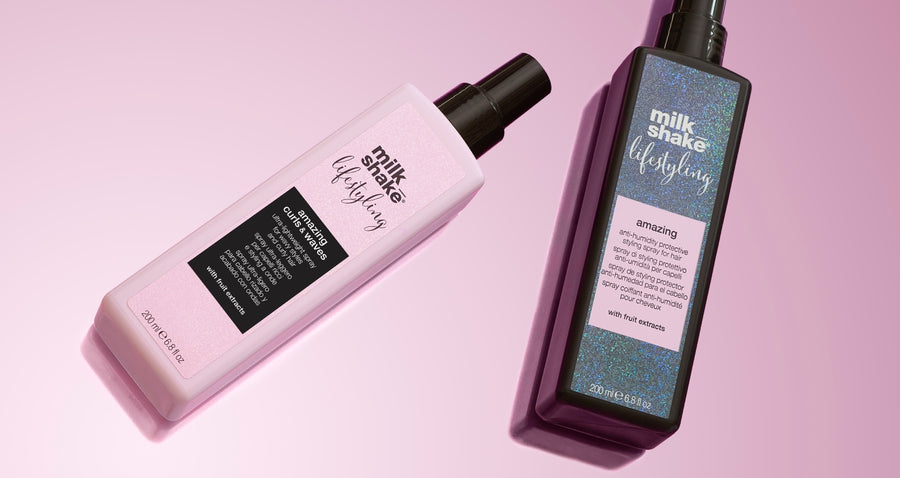 Choosing the right Lifestyling Amazing product for your client
No matter how your clients prefer to style their hair, it should always look amazing, right? While everyone wants soft, shiny, easy to manage hair, those with natural texture have a different set of needs. This is why we have developed two Amazing products in our milk_shake Lifestyling range: Amazing curls and waves for wavy and curly styles and our original Lifestyling Amazing, designed for straight styles.
Let's go over how these two products work for different hair types . We will also cover how to choose the right formula for your client's hair.
What makes it so Amazing?
No matter which look your client is after—wavy, curly or straight—both Lifestyling Amazing formulas deliver key, incredible benefits. Namely, both formulas remove frizz, protect hair from humidity, reduce drying time, and deliver a high voltage shine. Both Amazing formulas also protect hair color from fading and leave your hair silky with no residue.
Additionally, Amazing last through two shampoos, meaning their style stays fresher for longer.  Amazing Curls & Waves is applied every time the hair has been shampooed.
What's the difference?
Lifestyling Amazing
was developed to combine the benefits of a hair treatment, with the properties of a high-powered styler. We took all of the best qualities of our leave-in treatments and smoothing products and combined them into one, easy to use spray. The result is a single product that prepares and protects hair for straight, smooth styles. This formula is heat activated, so use it with blow dryer or flat iron for best results.
We created Lifestyling Amazing Curls and Waves so that that all hair types could enjoy the benefits of our wildly popular original formula. This product creates definition and bounce, while maintaining the signature frizz-free effect. The results is a single curly hair care product that does the job of three. Lifestyling Amazing Curls and Waves activates upon application. For a natural look apply on damp hair then air dry. To add volume to wavy or to create bouncy curls use a diffuser. For added definition on dry hair use a  wand or curling iron.
 Whether your client is typically the smooth and sleek type or prefer their daily styles with a little more texture, Lifestyling Amazing is guaranteed to make their styling life easier.  When in doubt, you can always send them home with both!