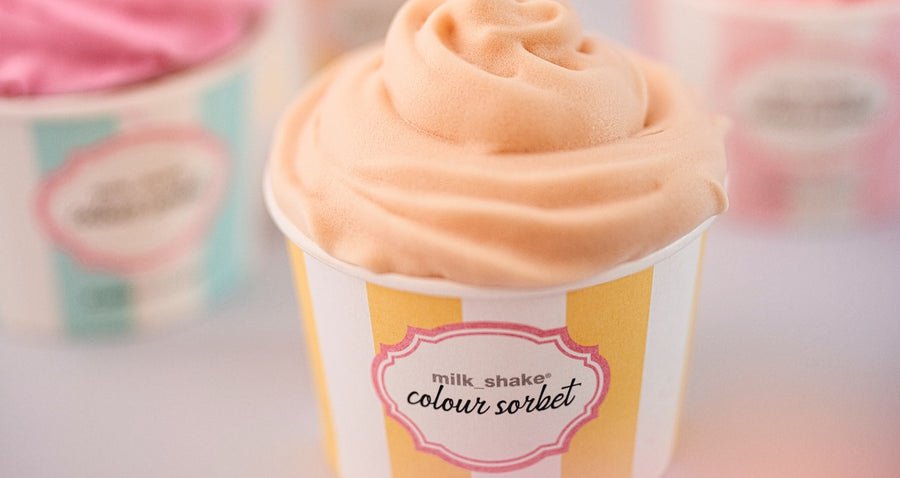 Treat your clients to a Color Sorbet service
What is the main difference between someone using a box dye at home versus getting a professional color service at the salon? Well ok quality, expertise, end result….but more importantly, the feeling of being taken care of, pampered, and catered to. So much about a client's visit to the salon isn't so much about the services that they are receiving as it is about the experience. How you conduct your services is just as important and the services themselves. Sometimes adding a little treat can be the small thing that brightens a client's day, or makes you stand out from the crowd. Using milk_shake color sorbet services are designed to do just that.
What is a color sorbet service?
The color sorbet service is the sweetest way to end any salon visit. By combining the hydrating and conditioning effects of our best-selling
Whipped Cream leave-ins
with temporary color in a range of 12 different shades, we've created the perfect in-salon treat. You can perform a color sorbet treatment at the end of any in-salon service. This additional treatment adds shine to blow-outs and intensifies the impact of a new color transformation. You can even use one of our color whipped creams to allow your platinum, white or very light blonde clients a chance to "test-drive" a new color for a while. Color whipped creams deposit temporary color, in addition to its hair healthy benefits. [video width="1080" height="1080" mp4="https://z-oneconceptusa.com/wp-content/uploads/2021/10/colour-whipped-cream.mp4" poster="https://z-oneconceptusa.com/wp-content/uploads/2021/10/milk_shake-colour-sorbet.jpg"][/video]
How to perform a color sorbet service
Select one of the 12 available color whipped cream shades, that is most appropriate for your client.
Using a branded color sorbet cup, fill it with your selected shade of colored whipped cream by holding the can upside down and dispensing.
Twirl the cup in a circular motion, to create swirled, sundae-like effect.
Be sure to do this in front of your guest, as the scent of the product is sure to enhance their delight.
How it builds your business
The beauty of the color sorbet service doesn't stop at the delightful experience for your clients. The additional service can also help you increase your ticket price 
and
 your retail sales. Much like a glazing service, adding a color sorbet to an in-salon service will increase the overall cost of your client's visit. Additionally, you can help your clients maintain the effects by sending them home with a color whipped cream in their chosen shade. Demonstrate how to apply the color whipped cream through the color sorbet service, and then encourage them to try it in their own at home. It's a win-win-win.